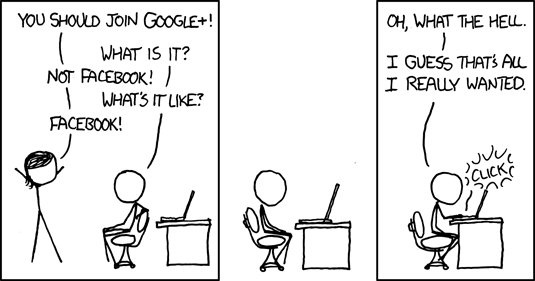 Google has launched it's much-expected re-entry into the social network landscape with Google+. Currently still in its invitation-only beta phase, Google claims that Google+ isn't intended as a Facebook replacement, but the intent is crystal clear, as is the language they use in describing their reasons for creating Google+:
Today, the connections between people increasingly happen online. Yet the subtlety and substance of real-world interactions are lost in the rigidness of our online tools. …
The problem is that today's online services turn friendship into fast food—wrapping everyone in "friend" paper—and sharing really suffers:
It's sloppy. We only want to connect with certain people at certain times, but online we hear from everyone all the time.
It's scary. Every online conversation (with over 100 "friends") is a public performance, so we often share less because of stage fright.
It's insensitive. We all define "friend" and "family" differently—in our own way, on our own terms—but we lose this nuance online.
After failing to enter the social networking market twice before with Google Wave and Google Buzz, Google+ appears at first look to be Google's first very viable social offering. With a large portion of Google employees' bonuses this year dependent on how well Google performs in social, it's probably not surprising, and we can likely expect a huge push for Google+.
What Google+ Does, and How it's Different
Google+ promises to be a different kind of social network that lets people interact online more closely to the way they interact in real life, and to help foster those social interactions. Google+ is a series of different inter-related applications, each trying to stretch the online social network model just a bit, while still being familiar enough to be recognizable and not scare people away:
+Circles: arguably the heart of Google+ is Google+Circles. Much like Facebook or any other social network, you build a network of contacts. Where Google+Circles is different is that you assign this pool of friends, or contacts, to different circles. So you might make a circle of work friends, one of family, one of drinking buddies and one for photography enthusiasts. You can then make updates within just one circle — because the kind of post you might want to make for your drinking buddies is probably not something you want your parents to see. Similarly, you can very easily see the feeds from any one circle at a time. When you share things over Google+Circles (using a share button, similar to the Facebook Like button) you get to choose which circles you're sharing it with, rather than blasting it out to everyone.The Google+Circles interface is simple and intuitive — while you can kinda sort of do the same thing in Facebook, it's cumbersome, complicated, and just doesn't work very well (in fact, this is one of the primary reasons I don't accept most friend requests in Facebook — I don't want them all seeing my updates). Google+Circles will also let you include non-Google+ members in your circle, and email them with updates. This is a particularly clever move, since after receiving enough relevant emails people are probably more likely to sign up for the Google+ network themselves. More than anything else, this could help Google to grow their fledgling social network.
+Sparks: The Google+Sparks feature lets you sign up for a particular area of interest and get a web feed on that area of interest that will provide a mix of relevant news articles, photos, videos and viral content. The idea of Google+Sparks is that it provides access to quality web content that can "spark" conversations within your circle. The +Sparks feed comes with a share button to let you share that page, picture, or video with a circle or circles of your choice.
+Hangouts: Google+Hangouts is essentially a multi-person live video chat room specific to your circles. This is a fascinating service as it takes a pretty direct strike at Skype. The idea is that you can hop in to the chat room, thus indicating your desire to "hang out" and other people from your circles might see you there and come hang out with you. The goal is to create a medium where you indicate that you're free to chat — rather than a simple "online" status.
+Huddle: Google+Huddle is a real time group messaging service, specific to your circles. With Google+Huddle you can essentially open up a text chat room specific to any given circle.
+Mobile: The Google+ comes with fully integrated mobile support, with both Apple and Android applications. This will allow you to display your location when you post, if you want (Google+Location) and lets you choose to have any pictures you take with your phone automatically stored in the cloud where you can access and share them whenever you want (Google+Instant Upload). This in particular is likely to be a very popular feature.
Initial Reactions to Google+
Following Google's announcement of the Google+ invitation-only test phase, responses ranged from people complaining about the need for yet another social network to people loving the idea of Google+ to nearly everyone complaining about what a horrible name it is.
However, reports from those who were on the invitation list are almost universally positive. They praise the simple and familiar interface, how easy it is to create circles and add people to them, and generally how well all of the different Google+ components work. There was also copious praise of how Google+ handles privacy, making it very easy and obvious what you're sharing and with whom. No doubt this is in part to the privacy debacle of Google Buzz, but it is yet another way in which Google+ compares very favorably to Facebook, which is flooded with privacy concerns of its own.
Right now it seems like the only thing Google+ is really missing is the stalker aspect of Facebook — with the divisions into circles, and since it appears you cannot see other people's connections, you don't have Facebook's notorious ability to cyberstalk. While most people would probably call this a good thing (and I appreciate it), I do think that the ability to stalk people — kinda like reading someone's diary — is part of Facebooks appeal, even if it's a part that most people wouldn't admit.
Whether or not Google is capable of taking down the 800lb gorilla that is Facebook remains to be seen, though it sounds as if Google finally has a good social product to offer. Keep in mind, it was just a few years ago that MySpace was the unstoppable social giant — in the social world things can change unbelievably fast. But then, Facebook is probably aware of that too, and thus far most of the features of Google+ are things that Facebook can easily implement themselves in an attempt to keep their stranglehold on the social market.