Here at Ecreative Internet Marketing we work both in SEO and website development. As a result we have the advantage of spending a lot of time with a lot of clients rebuilding their sites from the ground up, where we can apply solid SEO website design principles.
One of the topics that comes up and often meets some resistance is the value of internal links and how that value proportionately decreases with the number of links in the site's navigation. To help illustrate the actual math involved we build the Internal Link Juice Tool, which uses the SEO industry's knowledge of how Google's algorithms work to put an actual numerical value on each link in your site.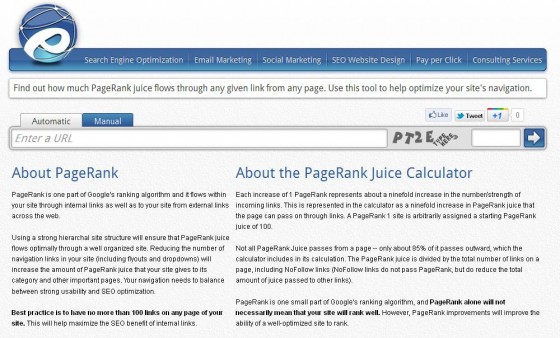 How the Link Juice Tool Works
To use the tool, just enter the URL of any webpage — it can be the home page of your domain, or an internal page. However, when you're looking at the PageRank flow of your internal links, you're usually most interested in the home page, which is where your PageRank and authority tends to accumulate.
Once you enter the URL (and fill in the captcha) the tool will retrieve the Google toolbar PageRank for your site, and it will send a spider to collect all the links you have on that page. It then tells you what your Google toolbar PageRank is, uses our knowledge of PageRank to convert that into a total pool of link juice, and then tells you how much link juice flows through each link.
Since one of the most common responses to this topic is "How do I have that many links!?!?" the tool also gives you a list of every link on the page. If the link is an image link, the calculator will also show you a thumbnail of that image to make it easier to track down.
Here's a screenshot of the Internal Link Juice Tool results for EcreativeIM.com: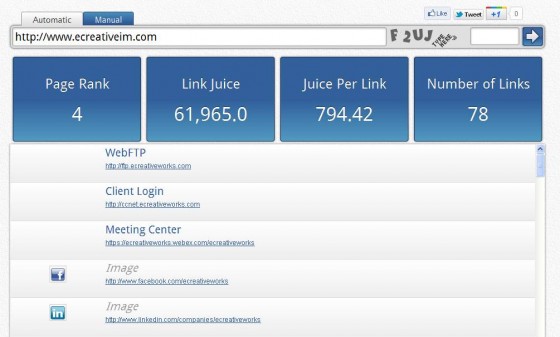 The tool also has a "Manual" tab where you can just manually enter a PageRank and a number of links to get the calculations to apply based on whatever numbers you'd like. This is useful for determining how your internal link juice would change if you reduced the number of links on a page.
Internal Linking Best Practices
Best practice is to have no more than 100 links on a page. In fact, if you have more than 100 links on your page the Internal Link Juice Tool will automatically let you know what your PageRank juice per link would be if you pared that number down to 100.
Your site is not penalized for having over 100 links. There is no hard and absolute rule for the number of links a page can have: it's a balancing act between SEO benefit and usability (although having hundreds or thousands of links on a page is usually poor usability too). Truly giant and complex sites may need to have more than 100 links per page, and will also need to put a lot more effort into ensuring that their site is easy and intuitive to use, and will need more incoming PageRank to get the same benefit as a site with fewer links.
As a point of reference, Amazon.com has around 200 links on their home page. If you are not as large as Amazon.com you'll have to talk pretty fast to convince any SEO that you need to have more home page links than they do.
The fewer links you have on any given page, the more PageRank link juice will flow from that page to the linked pages. In general the pest practice is to have a strong hierarchical design in which your home page links to category pages, which link to sub-category pages, which link to product/information pages. Smaller sites can remove the sub-category layer.
PageRank and Ranking
PageRank is one of Google's ranking factors — one of over 200 factors. It is not the largest factor, it is not nearly as large as once it was, however it is still an impactful measure of ranking ability, as SEOmoz's correlation studies have shown. It's also important to understand that the toolbar PageRank that Google shows us is not the same as the PageRank that they use in their own internal algorithms. Toolbar PageRank is only updated a few times a year, while real PageRank is constantly updated, and the Google algorithm uses spam signals to ignore the PageRank of certain kinds of links that may still be reported via toolbar PageRank.
In the big picture, a higher PageRank will improve the ability of a well-optimized page to rank better. Optimizing your site's internal linking structure will also help Google to understand the structure of your site.
How the Internal Link Juice Tool Works
The Internal Link Juice Tool just retrieves the toolbar PageRank of a page and applies some simple math to get the juice per link. SEOmoz has conducted research to suggest that one step higher in PageRank represents a ninefold increase in number/strength of links. Thus the Internal Link Juice Calculator sets PageRank 1 at a link juice value of 100, and every increase in PageRank increases the LinkJuice pool ninefold.
We know from Google's PageRank paper that only about 85% of that link juice is passed on, and from the paper and Google's public comments we know that the PageRank is divided by the number of links on a page, including nofollow links. With this we can easily arrive at the link juice per link value.
The Internal Link Juice Tool would be equally as effective if we had ignored PageRank entirely and just set an arbitrary number (say, 1,000) for the total link juice pool. However, we felt that basing the number on our best knowledge of PageRank would give a more accurate and meaningful representation of the ability of a home page to benefit the most important sections of a site, as well as help to illustrate to clients the advantages of more incoming links.
So try out the Internal Link Juice Tool and let us know what you think.