Not that another Facebook update is earth-shattering, but some of the recent changes may have a big impact on your Facebook's Business or Brand page. If you're using Facebook to promote your company (and you should be) here are the things that you'll want to know:
Photo Placement Change
The first new change worth considering is the new photo placement at the top of your profile page. Business' page photos now appear in the same manner that new profile pages photo' appear. Consider posting a series of images that represent your business and make sense together. These photos will likely be the first thing that a potential customer will see when coming to your Facebook page.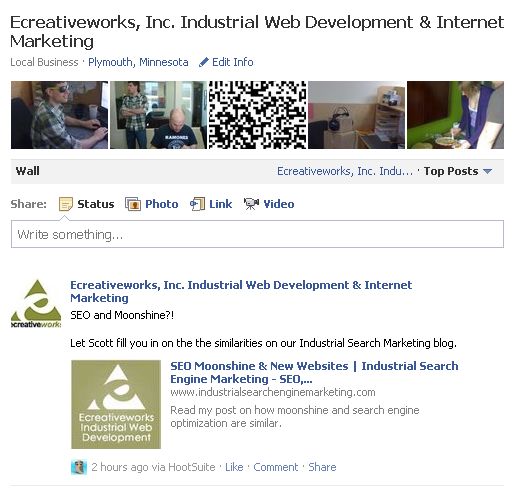 Enhanced Email Notification
The next new feature that Facebook rolled out for Business pages is the Enhanced Email notification for Page Admins. This feature makes it much easier to monitor your page as you are able to receive email notifications whenever any one interacts with your page, as long as you are an admin for the page. You can also edit these notifications on the new Edit Page button on the top right of your business' page.
No More FBML
Additionally, Facebook has phased out the FBML (Facebook markup language that creates custom tabs) feature as of March 10th of this year. Your existing FBML tabs will function properly now but it will be impossible to add new static FBML boxes.  There are many iframe converters already available to convert your existing FMBL tabs to iframe. The fact that iframes are hosted on your own web site and therefore highly customizable with HTML, CSS or Javascript is very exciting as it's now even more possible to make Facebook just another extension of your businesses' web site.
Use Facebook as Your Page
Probably the biggest and most welcome feature enhancement is the Using Facebook as Your Page feature. This means that Page Admins can navigate Facebook as your business identity, leave comments and interact with other business pages.
Previously, interaction with brands was limited to favoriting other pages. Now, business pages have the opportunity to interact and Like other brand's pages. To access this feature, you'll have to use the "Use Facebook as brand" available via the link at the top right of the business page you administer.
Just remember to switch back to yourself before you start commenting on your  personal friend's feeds.
Other Facebook-Related Posts:
[posts-by-tag tags = "Facebook" number = "7" excerpt = "false" thumbnail = "false" order_by = "date"  author = "false"] [/posts-by-tag]