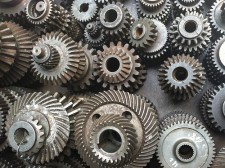 Here at Ecreative Internet Marketing we work with a lot of clients in a lot of different industries, but we specialize in the industrial market. This page is a guide to many of the different industrial resources available for promoting your company on the web, from directories to sites that will publish your press releases to forums for industrial market discussions.
If you have an industrial resource site that you think should be included in this list, please Contact Us with your site's URL and some information about the site, and how it can be used as a resource to other members of the industrial market community.
General Industrial Market Resources
Industrial Search Engine Marketing A blog dedicated to online marketing specifically for industrial companies. This blog is run by our sister company, Ecreativeworks, and focuses on industrial-specific articles, rather than more general SEO and internet marketing as we do here.
Industrial Marketplace Web The IMW is a general industrial market resource both for industrial business owners and marketers to promote their companies, but also for buyers and specifiers to find solution providers within the industrial market. The IMW includes and industrial directory of industrial companies, an industrial press release section, and a detailed database of industrial products and services, with everything from CNC machining to metal stamping to open die forging. The IMW is unique in that you can either submit your company profile or press release, or you can actually create an account yourself and enter them directly whenever you want — though they all must be approved by an admin before they'll be published live.
Paid Industrial Directories
The following industrial market directories offer paid listings for promoting industrial companies. Many of them are capable of driving significant traffic to your site from their own SEO efforts and dedicated communities of users, and others exist primarily for SEO purposes. Paid listings within quality industry-specific directories can enhance your SEO efforts and increase your site's authority in the eyes of search engines, and its ability to rank well for the keyword phrases that are important to you.
Many of these directories also offer free listings, though the free listings have less visibility, and generally provide fewer backlinks to your site.
Free Industrial Directories
The free industrial directories offer the same benefits as the paid directories; however, these directories are usually smaller in terms of overall number of users and their primary benefit is usually SEO related, rather than for driving traffic. Be aware that there are some generic directories that are considered to be in "bad neighborhoods" on the web (IP address areas known for spam and blat hat techniques that are penalized by search engines) and you want to be certain that a directory is legitimate before you have your company listed there.
Generally this is pretty easy to identify — most users can tell at a glance whether a site is legitimate looking, or clearly a spam site or link farm. If the site looks horrible, is filled with massive blocks of senseless links, or looks like it was automatically created by a bot, you probably don't want a link there. The following free directories are all legitimate directories that should help your SEO:
Industrial Press Release Sites
The following sites are all places where you can submit your industrial press releases. Press releases are a great way to increase your online visibility. Even if the press release is seen by relatively few people, each release includes a link back to your own site, building your backlink profile.
Industrial Market Forums
There is no over-arching industrial market forum; however, there are forums specific to many different industries within the industrial market.