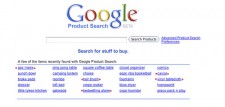 Google recently announced on their blog that new shopping feed requirements for Google Product Search are coming down the pipeline, and will be mandatory as of September 22, 2011. If you do not have the new items in your feed by Sept 22nd, your products will not show up in Google Product Search.
The new elements requires in shopping feed include:
Availability: Google wants a product to show up in the feed even if it's out of stock. For this reason, the [availability] status of all your items will be required. Of course we can assume if they actually display the stock status, only in-stock items are going to be collecting click throughs.
Google Product Category: Google added a new required high-level attribute called [google product category] that contains the category of the item in Google's taxonomy (currently only required for a select number of categories). This is in addition to the current [product type] attribute.
Images: Google is making [image link] required and allowing up to 10 additional images through the [additional image link]. This demonstrates the importance Google places on having images of products show up in their feed.
Apparel: In order to create a better experience for product variants such as dresses or shoes that are available in multiple colors or sizes, we ask you to include information like [size] and [color] in your product feed. In addition, we require you to provide [gender] and [age group].
Data Freshness: Google will continue to regularly check feeds for accuracy of pricing, availability, and general product information, and take action against accounts that violate our standards.
While most of these changes certainly look like good things for standardizing the Google Product Search and benefiting end users, it's certainly difficult on ecommerce stores. Most stores have hundreds or thousands of products listed, and have their shopping feed automatically populated by their ecommerce software.
The increasing regularity of product feed updates (the last one was just in May) means that at best ecommerce stores need to update their software to include the new required fields, and at worst they have to go into every single one of their thousands of products and add new fields to their base ecommerce store to feed the shopping feed generator.
It quickly becomes a question of whether placement in the Google Product Search is going to generate enough profit to compensate for the ongoing costs of continually changing your software.