Facebook Brand or Company pages can be customized to have their own custom URL. This is called a Facebook vanity URL. So rather than having your business page be www.facebook.com/page/ecreativeworks/68135134 you can be www.facebook.com/ecreativeworks
Last year, Facebook changed it's requirements to obtain a vanity URL for a Facebook Page (Brand or Company page). These vanity URLs,  once reserved only for pages with over 1,000  fans are now readily accessible for every Tim, Bob or Lois's small business page with only 25* or more fans, now called "Likes."
*Facebook pages no longer require 25 "Likes" in order to assign the vanity url since mid-September 2011.
Why would you want a Facebook Page Vanity URL?

A custom Facebook URL adds an extra level of professionalism
A custom Facebook URL makes your page easier to find and easier to share via word of mouth.  Instead of telling some one, Hey! Come check out www.facebook.com/pages/Ecreativeworks/16471944194 you can tell them to check out www.facebook.com/ecreativeworks. And, don't worry, if you've already got links to your non-vanity URL Facebook page on your website, when you set up your Facebook's page vanity URL, it'll permanently redirect.
Custom Facebook URLs can increase your page's SEO traction, both in search engines and within Facebook search. Not only will your brand or company's website rank well for your company's name when searched, your Facebook page's likelihood of showing up in the search engine results will be higher
Cool! So How Do I Do It?
Visit //facebook.com/username and, if you Admin more than one page like I do, you'll see this:

The Facebook Page I set up for Acorn Paper Products Company hasn't had their vanity URL assigned yet and they have more than 25 Likes so they will be my example.
If your page doesn't have 25 Fans, or Likes, you'll get a warning message that your page isn't yet eligible. Get a bunch of friends to Like the business Page until you have at least 25 Likes (they can unlike it later if they really want, and you'll still keep your custom URL).
Entire your desired username in the desired username box below.


Double and triple check your selection as you can't change it once it's been set as that would really suck if you accidentally spelled your company's name wrong.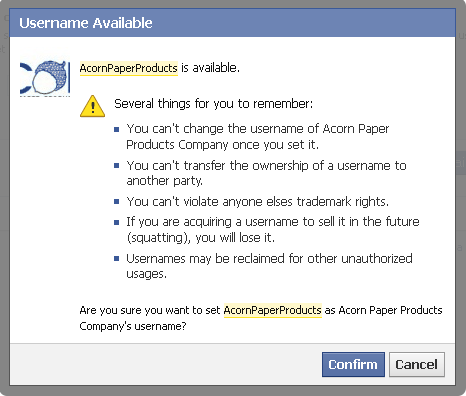 Click the Confirm box.
A few other tidbits to remember:
Facebook Page Vanity URL's can only have alphanumeric characters (A-Z, 0-9) or a period (.)
If your trademarked name has already been taken, you can notify Facebook of an intellectual property infringement
Ta Da! You've set your own Facebook Page Vanity URL. Stay tuned for more Facebook How-To's!
Other Facebook-Related Posts:
[posts-by-tag tags = "Facebook" number = "7" excerpt = "false" thumbnail = "false" order_by = "date"  author = "false"] [/posts-by-tag]