Twitter is unrolling a new feature in which users can upload images directly to Twitter, directly from the tweet box. Twitter is allowing users to uploaded images up to 3MB in size, and will automatically scale the images to display in the display pane on the right side of the Twitter timeline.
When users log onto Twitter after the new feature has unrolled, this message greets you when you login: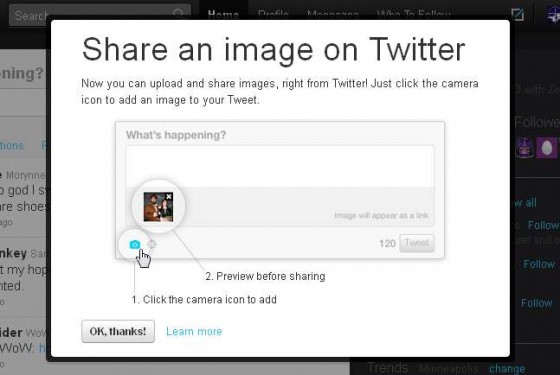 At any time you can upload a picture from your desktop directly to Twitter by clicking the camera icon in the lower left corner below the tweet box. The image only appears after you have clicked inside the tweet box.
After you upload an image you'll see a thumbnail of it before you make your tweet. After tweeting the image will appear as a link in the tweet, but when readers click on the tweet they'll see the full image on the right sidebar, like this: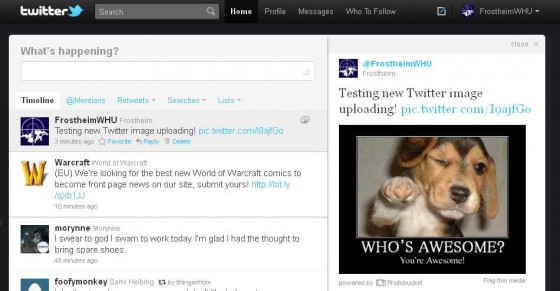 Twitter has also said that that they will be implementing user galleries in the coming weeks, and those user galleries will include not only images uploaded directly to Twitter, but also images shared on Twitter from other sources, including Twitpic, yfrog, and Instagram.
Some other notes about Twitter image uploading:
You'll note the "powered by Photobucket" appears beneath the photo. Photobucket is hosting the uploaded photos.
You can continue to share photos from any other site.
You comment on an image by replying to the tweet.
You can delete an image by deleting the tweet that contained it.
The images can appear in search, unless you have a protected account.
Twitter will automatically strip Exif data out of uploaded photos to protect privacy (this is the data that your camera/phone may automatically attach telling you the camera settings, your location, and other details)