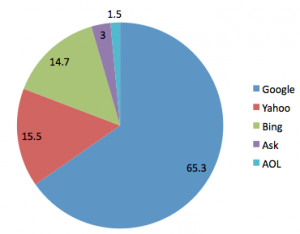 ComScore has released more data on their research into the search marketplace, revealing that Google has expanded their share of the search market in September while Yahoo's share of search fell to 15.5%, the lowest share Yahoo has ever had reported.
For a long time now Bing has slowly been eating away at Yahoo's search market share, while Google's share has remained steady. As Yahoo continues to suffer with large layoffs at the end of last year and the beginning of this year and the recent firing of their turnaround CEO, Google is finally joining Bing in the feast on Yahoo's remaining search share.
The September numbers show Yahoo still holding a lead over Bing (Yahoo search is powered by Bing, however) and Google remaining in its dominant top position:
Google: 65.3% share
Yahoo: 15.5% share
Bing: 14.7% share
The remaining 4.5% is split between Ask and AOL
With rumors floating around that the Yahoo board is looking to sell the company, the continuing drop in Yahoo's search share to record low levels will certainly fuel the rumors, and possibly lower the perceived value of the company (which is already trading at an amount approximately equal to its cash reserves).