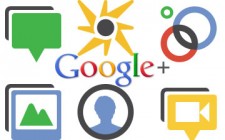 In case you missed it, we jumped on the Google+ Company and Brand Page bandwagon last week.
One issue I ran into while setting it up the Ecreativeworks Google+ Page was the fact that there was hardly any information available telling me what the profile image size could be. I figured the fact that this information wasn't easily available would make it a perfect blog post. As a sidenote,  Google+ profile picture and scrapbook picture specs are the same as Google+ Business and Brand Page specs.
It took some trial and error and some Googling to discover that the ideal Google+ Page profile image resolution has a Maximum Width of 202px &  Maximum Height of 192px. My Googling also brought to light that I certainly wasn't the only person frustrated with this. I'm surprised why Google+ wouldn't include this in an FAQ or integrate this information into their photo upload tool.
Google+ allows  scrapbook photo sizes of Maximum Width of 126px & Maximum Height of126px. What are scrapbook photos? you ask?  Scrapbook photos are much like Facebook's "featured 5" images that appear on the top of your profile just above your Google+ profile name or Google+ Page Business or Brand name.
The nice thing about Google+ images, is that you don't have to be a designer or a Photoshop master in order to add some neat effects, crop or resize your image as Google+ sports an integrated editing suite.
Have you set up your Google+ Company or Brand Page yet? If so, you should head over to Ecreativeworks' Google+ Page and follow our page!