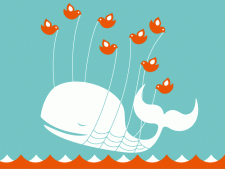 Not only did Twitter get a facelift last week, it also followed in Facebook, and most recently Google +'s footsteps in launching brand accounts.  Although many companies already have a Twitter presence, Twitter brand pages will allow more functionality and interactions with followers, according to Mashable.
What will be different? Being that the brand pages aren't yet widely available, or, in other words, being tested by a select few,  I can only go off what is being reported.The top three features that are being discussed are the expanded header image, featured Tweet enabling and the ability to separate between @mentions and @replies on a brand's feed.
What is so cool about this? Well, an expanded header image is meaningful because a brand could possibly highlight new products or services or use more real estate to educate their customers about their products or services.
The featured Tweet could be very helpful when a brand or company is announcing a new product or highlighting a new blog post. That way, Tweets answering common customer service questions don't smother the content that brands want to be front and center.
Also, being able to separate @replies and @mentions will better allow brand marketers or agencies to better streamline responses and communication by separating them out, or sometimes excluding them from the noise of the feed that users often find overwhelming.
I'm certainly anxious to see how Twitter will handle the conversion into Twitter brand accounts. What features would you find helpful for your brands' Twitter account?