I posted on Facebook the other day that Pinterest might as well send me an email that reads, "Every one you've ever met in your life is now following you on Pinterest."
In case you haven't jumped on the Pinterest bandwagon, or, even if you have, you might want to keep reading to learn how it can potentially help you and your company's online marketing strategy.
So, what the heck is Pinterest? Well, it's a hot newish online bulletin board where you share images from around the web. The value for online marketers like myself, in addition to brands and businesses is not only the ability to share, comment and "re-pin" within one's  increasing Pinterest network, but the ability to display your brand or businesses' products and drive them back to the brand or business's website, driving sales or conversions.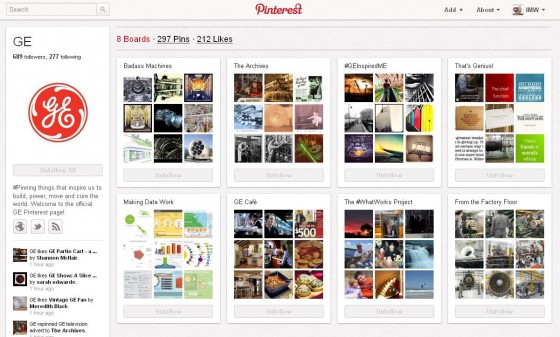 Demographics studies have shown that more "Pinners" are female, although I've found that demographic shifting as I've "Followed" or been "Followed" by more male friends lately. Gentlemint, touted as "a mint of manly things" was created as Pinterest's alter ego.   Because Pinterest plays nice with Facebook and allows one to find Pinterest friends by Facebook friends, it's simple to get started and almost instantaneously create your own audience. I always hesitate to use interactive  marketing speak like, "viral" but Pinterest content received by enough "Pinners" can and often does go viral.
The site, which launched in closed beta nearly a year ago has received all sorts of hype and awards and llast month, comScore reported Pinterest has had no less than 11.7 million unique visitors.
How to Use Pinterest for Your Business
So, who and how can you leverage this platform for your brand or business?
There are a multitude of ways…not only could a brand get real-time feedback on new products, but it's also a great way to generate buzz. Larger companies with many product lines can also educate and connect with consumers, post Pinterest user specific coupons, conceptualize a contest or a challenge and express your brand's or product's uses and personality. Brands that have "done" Pinterest well aren't necessarily limited to brands or companies like Etsy, but B2B brands like GE, IMW and AMD have established Pinterest brand pages and have established them well.
You may also want to consider exploring the Pinterest Goodies embedding a  Follow Button or a Pin This Button on your site.
Although Pinterest wasn't exactly created for brands or marketers, it's definitely been embraced by both and it will be fascinating to see if and how Pinterest evolves to cater to this audience. Although Pinterest is still a young and evolving community, it's certainly something marketers should pay close attention to as it can be an effective part of a brand's social media strategy. Happy Pinning!