In a startling move that, frankly, is still blowing my mind, Google has for the first time moved a free organic search service to a paid inclusion model. Google has announced that the Google Shopping Feed is moving to be paid inclusion only, and this change will be complete by the end of summer.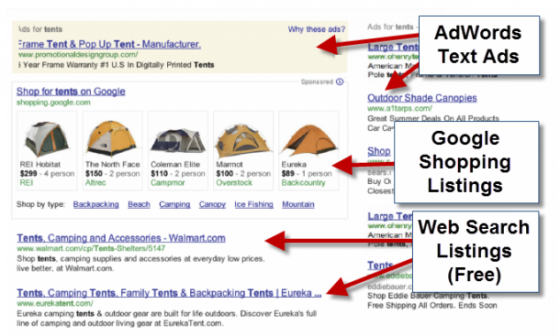 Once the changeover is finished, the Google Shopping Feed will show up at the bottom of the paid ads on the top of search results, and only companies who pay will be there. There will be no more free shopping feed. The paid inclusion will be on a pay per click model, but will not be adwords — you will not be able to target keywords, for example. You will just indicate how much you're willing to pay for a click when your product shows up.
The change to paid inclusion is a huge change from Google's previous stance (they've previously stated that paid inclusion in shopping results would inherently bias the results, and that paid inclusion is evil) and further news of this is covered very completely by Danny Sullivan and his post on the Shopping Feed paid inclusion is a must read for anyone following SEO or PPC.
This move is likely, as Google claims, to improve the shopping feed quality; primarily by throwing out most small companies and leaving only the large brands to compete for Shopping traffic. If you're not a big brand, this change is bad news. For users…. it remains to be seen if having fewer but more trusted options is an improvement.
Impact on Organic Search
This change is also going to impact organic search. Now instead of 3-4 ads at the top of search results, we'll have 2-3 ads and a huge shopping feed block pushing organic results further down the page. What's more, on the current screenshots Google doesn't even change the background color to indicate that the shopping feed is an ad (though many users can't see the faint colored background anyway) — they just have a small gray "Sponsored" text at the top right where it can be easily missed.
This means that not only will organic results get pushed farther down the page, but the paid results are also likely to eat up more of the clicks. It's likely that the majority of clicks will still be going to the organic results, especially in niches with tech-savvy users, but to be sure the total clicks will decrease substantially.