We all know that blogs and their plugins are fantastic SEO tools that can help your website rank well in search engines. While there are hundreds of different blogging platforms, by far the most popular (and for good reason) is the free WordPress platform.
If you have a WordPress blog for your website, you're already well on your way to maximizing your SEO, but one of the great things about WordPress is the huge community of people constantly generating free addons for the WordPress software. Some WordPress plugins are fun and some are functional, but what we really care about are the plugins that let us further optimize our SEO.
Here are 5 essential (and free) SEO WordPress plugins to let you optimize your WordPress blog. All plugin info updated for 2011.
Note: these are all plugins to use for your self-hosted WordPress blog. If you're blog is through the free WordPress.com, you cannot install WordPress plugins.
All in One SEO Pack WordPress Plugin
What: SEO WordPress plugin that lets you set custom titles and meta tags
How much: Free
Where: Download All in One SEO Pack from WordPress.org
All in One SEO Pack will automatically sets up your titles and meta tags for all of your posts. For anyone with a WordPress blog this is a good deal and is entirely painless, but the real strength of this plugin is that it also gives you the ability to manually create your meta tags for each post.
With All in One SEO Pack, you can just create your posts like normal, then below the box where you write your post will be additional fields for your meta description and meta keywords. This lets you target your descriptions both for SEO, and for conversions — writing them in a way that will make users more likely to click on the link.
An important thing to note is that when you first install All in One SEO Pack, your Posts screen in your WordPress admin will have the columns all cluttered with the new information. You can hide any columns you want from the Posts screen by just clicking the "Screen Options" box in the upper right and unchecking whatever information you don't want to display in your admin panel when looking at the Posts screen.

Trackable Social Share Icons WordPress Plugin

What: Trackable Social Share Icons adds social media share icons to your posts, and clicks are trackable in Google Analytics
How much: Free
Where: Download Trackable Social Share Icons from WordPress.org
If you're interested in increasing traffic to your WordPress blog, social media is just too big to ignore. You absolutely want to give your readers an easy way to share your blog posts via Twitter and Facebook. You'll be surprised how many of them take advantage of it.
Trackable Social Share Icons is, in my humble opinion, the best WordPress plugin for accomplishing this currently available. It's highly customizable and lets you choose which social icons appear, in what order, choose from a dozen different icon styles, adjust the size, determine if you want text with the icons, etc.
Clicks on the Trackable Social Share Icons also automatically record in your Google Analytics (if you have it). So you can see how many people are sharing, which blog posts their sharing, and what social media sites they're using to share it. Unlike plugins like ShareThis, AddToAny, and others, Trackable Social Share Icons does not share your user information with any 3rd party!
WordTwit WordPress Plugin
What: WordTwit syncs with your Twitter account and automatically tweets every time you update your blog.
How much: Free
Where: Download WordTwit from WordPress.org
Ideally you are tweeting with a link to your posts every time you update your blog. WordTwit happily and seamlessly takes care of that job for you. Not only will it tweet every time one of your posts goes live (but not until they are published live) but it will also automatically use the URL shortener of your choice to do so.
It's worth mentioning that WordTwit alone is not the best way to manage your Twitter account — ideally your Twitter feed should be more than just a list of your blog posts… but a list of blog posts is better than no Twitter at all. But you should also be manually posting to Twitter and interacting with your followers — WordTwit just takes care of the blog-related posts for you.
WP Super Cache WordPress Plugin
What: Reduces server load and makes your blog less likely to slow down or crash during very high traffic
How much: Free
Where: Download WP Super Cache from WordPress.org
WP Super Cache creates static html versions of your dynamically created WordPress blog posts, and serves those static files to most users. There's a whole bunch of fancy technical stuff it does, but for most of us here's all we need to know:
It works right out of the box. We can ignore all the customization options.
It reduces the amount of server resources required to run your site. This means that your site is better able to hand large amounts of traffic — so your blog won't crash if you get a surge of traffic in response to a blog post that gets linked all over the web.
Those static pages that it serves are updated all the time — if you change one letter on a post, the static page will be changed. Likewise your readers will still see all comments.
For most sites WP Super Cache is really just insurance against getting linked to from StumbleUpon or a similar site — very often these traffic surges will crash your blog. If you have low traffic and don't ever anticipate getting large spikes (think 50,000 or more hits in a day) then you don't need this plugin.
Feedburner and FD Feedburner WordPress Plugin
What: Changes your default WordPress RSS feed into something that can be easily tracked and enhanced
How much: Free
Where: Download FD Feedburner from WordPress.org, set up Feedburner feed from feedburner.google.com.
By default WordPress will create a RSS feed that your readers can subscribe to. Feedburner is just an alternate RSS feed. The advantage of a Feedburner feed is that you can very easily see how many subscribers you have, and track how often they click on links from your feed. You can also add features to enhance your feed, including social media share links added to the bottom of the feed (the icons from ShareThis don't actually appear in your feed — they only show up on your site).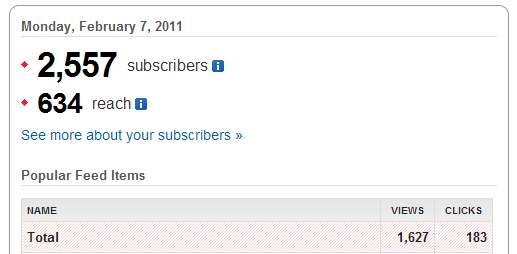 Feedburner is a Google service, and it's free and easy to set up. But of course once you set it up you'll need to redirect your default WordPress feed to your new Feedburner feed, and that's where the FD Feedburner plugin comes in. It's about as easy to use as possible. Just install the plugin, and then copy and paste the URL of the Feedburner feed from Feedburner, and you're all set to go.
---
These 5 easy to use plugins can do wonders for your WordPress blog. I use them all, and recommend them highly. You can just set them up and forget about them or — for plugins like All in One SEO Pack — you can choose to pay more attention to it and get even more benefit.
And of course none of them will cost you a penny, or subject you to ads, or any other downside. The WordPress community is a great thing for business bloggers.
Other WordPress Posts:
[posts-by-tag tags = "WordPress" number = "7" excerpt = "false" thumbnail = "false" order_by = "date"  author = "false"] [/posts-by-tag]