Google has launched a much awaited update to their Social Search function. Although Social Search was technically launched in 2009, it only showed integrated search results from your social media connections at the bottom of your search page. Google now integrates the social media profiles which you've connected to your Google Account in the SERPS, or Search Engine Results Page.
This feature searches your Twitter, Flickr, Quora, Google Reader or Linkedin account (all customizable) and shows applicable Tweets, photos or content based on your search.
This new feature could potentially really things up for search rankings. Social search may be enhanced to reflect any social element to it,  according to Google's Mike Cassidy, Product Management Director for Google. A person's relationships can, in effect, manipulate a page's rank — but only for that individual.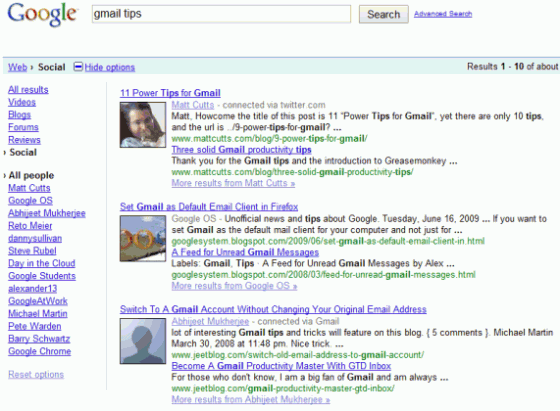 While Google already launched this updated feature yesterday on their .com English version only, you may not be able to see these results for another week or so. And, if you've never linked any of your iGoogle, or Google profile to any of your social media results or don't use any of Google's social network products, than you'll never see social results.  Additionally, it will also be possible to make your connections private, meaning that your Google profile won't show your social media connections, or social search influencers.
Check out Google's video demo