Almost any blog or news site you go to these days will have social media icons beneath each article, making it easier for users to quickly Tweet or share that article among their social network. You will, in fact, find them on the bottom of every article on this blog as well.
WordPress blogs have this easy, since there are several WordPress plugins that provide these icons for you automatically. Unfortunately, there are two major problems with almost all of these plugins:
The vast majority offer no way to track the number of clicks on the sharing icons. ShareThis, probably the most popular of them, claims to do this for you via their site, but I've never been able to get it to work, and they've never responded to any support tickets. All the bloggers I know who have tried also report the same total lack of working.
More important than tracking, it appears that all of the major providers of these plugins actually gather all of that click data — and more — and send it to themselves. So they are collecting information on all of your readers.
The two big social icon providers, ShareThis and Add to Any both collect your icon click data. Here is an excerpt from ShareThis' privacy policy:
We collect information when you visit our web site, use or interact with ShareThis Services (including sharing content with our sharing icons) … This information could include general click stream behavior such as web pages viewed (including the URL addresses of such pages), search queries from which users are directed to a page, navigation from page to page through the ShareThis Services, time spent on each page, and items that you click or select ("Usage Information"). This Usage Information also may include IP address, information about your geographic location derived from your IP address and the domain name of your Internet Service Provider.
I don't know about you, but to me, that's kinda creepy! One of the services we provide at Ecreative Internet Marketing is site design and blog development. Our clients want the social icons on their posts, but they are brought up short by the privacy (or lack thereof) policies that are often hidden.
If you want it done right, do it yourself
After a lot of fruitless searching for a WordPress plugin that would offer the social icons, let you track the clicks in Google Analytics, and not report on all of your users internet behavior to a third party, we finally decided that we'd just have to make it ourself.
I'm happy to say that we're now well into our alpha test of our own WordPress plugin for social icons (that's what you see on this site currently). Once we're sure everything is working correctly, and so far it's working great, we'll be putting the plugin up at WordPress.org for free download to the WordPress community.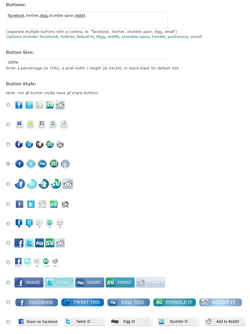 I'm personally very excited about this project, and I've already got it running on my own personal blog to great success. It's highly customizable, and best of all it just plain works. Nothing to sign up for, no code to enter — if you have Google Analytics on your site, then all your click data will just automatically show up.
And, of course, none of that information is shared with us or any third party. I can't wait to make this one public.