Ecreative Internet Marketing has officially released our Trackable Social Share Icons WordPress plugin. This plugin is available for download via WordPress.org.
The Trackable Social Share Icons plugin does two things, and it does them simply and well:
Adds social media icons (like Facebook and Twitter) to the bottom of your blog posts and pages

You can choose which icons appear, and the order in which they appear
You can choose what the icons look like from a dozen different looks
You can choose what size the icons are

Automatically tracks all clicks on those icons in your Google Analytics, including what pages were clicked.

Tracking information is not shared with us or any 3rd party. Only someone with access to your Google Analytics will see it.
Why We Made This Plugin
We developed this WordPress plugin to fit a need of our clients for whom we were creating their custom WordPress blogs. While there are many different social media sharing plugins out there, we needed one that included customizable looks, could track clicks in Google Analytics, and didn't share that information with 3rd party agencies (a process that also usually slowed page load times).
I have to say that Mike, the Ecreative Internet Marketing developer on this project, knocked this one out of the park. The customization options for the icons are better than I've seen in any other social media plugin — giving a full dozen different icon appearances, and then also letting you change the size of the icons, whether text appears next to them, the order, etc.
My favorite thing about this plugin is that it really works the way a WordPress plugin should: just install it and you're done. By default the addon adds the most common icon set for Facebook, Twitter, and email to the bottom of your posts and pages. If you want you can go in and tinker to choose different icons, add more social media outlets — Digg, Reddit, StumbleUpon, etc.
And the tracking requires you to do nothing at all. The plugin works with the onclick tracking built into Google Analytics, so you literally don't have to do anything at all — just install the plugin, and your icon clicks automatically are recorded in your analytics. Beautiful.
What it Looks Like
The plugin is running right now on this blog. We're currently using the round icon set, because it matches the Ecreative Internet Marketing logo, and we're only using the Facebook, Twitter, and email icons, because that's 99% of all social media clicks anyway.
On the backend, clicks on those icons show up in your Google Analytics under Content > Event Tracking, and it looks like this: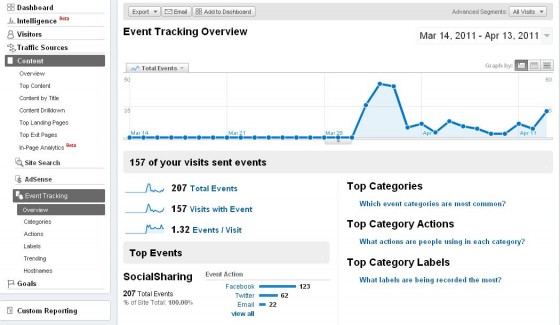 Try it Out on Your Blog
We've decided that rather than keeping this plugin just for our clients, we're making it available (for free) on WordPress.org for all members of the fantastic WordPress community to take advantage of. So download it from WordPress and try it out yourself!
Other WordPress Posts:
[posts-by-tag tags = "WordPress" number = "7" excerpt = "false" thumbnail = "false" order_by = "date"  author = "false"] [/posts-by-tag]