Google has released it's fourth quarter earnings, showing that it made over 10 billion dollars in revenue in the fourth quarter. Despite this new record earnings, Google's stock price fell 9% after the announcement. While Google reported record earnings their profits were only modestly up year over year, and analysts had been expecting Google to perform much better in the 4th quarter. In particular, despite a 34% growth in number of paid clicks year over year, the actual cost per click actually declined about 8%.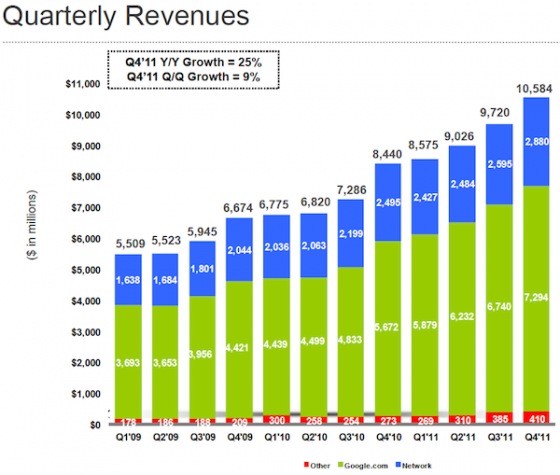 In addition to revenues, CEO Larry Page lauded the success of the Google+ social network saying that it had reached over 90 million users. In a somewhat confusing statement, Page also said that 60% of their users log on every day, and 80% every week. If true, those numbers would be substantially better than Facebook's engagement; however, the context in which the statement was made suggests that he may mean that their Google+ users log into any Google property that often — meaning they may have a Google+ account that they never look at, but they log into gmail every day and so get counted.
The total number of user accounts demonstrates a huge recent surge in users, which makes sense given the much-hated Google Plus Your World algorithm change. With Google+ results being artificially forced into the first page results so regularly, all online businesses must have a Google+ account, and furthermore they're strongly rewarded for trying to encourage their fans to create one as well — since they need their fans following them so that they can be "recommended" by Google and their results can be inserted above organic results for their followers.