SEO Basics is the eCreative IM blog column written for SEO beginners just learning the basics of search engine optimization. You can find all our SEO Basics articles by browsing the SEO Basics Archive or find the specific tips you're looking for in our SEO Tips & Guides page.
Updated in 2012 with the latest word from Google! Should you use dashes or underscores in your SEO URLs? Happily, unlike many SEO questions, the hyphen vs underscore debate has a definite right answer, and we've gotten that answer directly from Google.
Among the many little tweaks that we make to our websites to maximize our SEO in Google are our SEO URLs. The basic concept is to make the URL search engine friendly — and by friendly, we mean optimized to rank better.
Google has no problem reading those pesky /productid?=5165681 URLs these days; however, all other things being equal the URL that reads /red-nike-sneakers is going to rank better in Google.
Separate SEO URL words with a hyphen, or an underscore?
The recurring question in SEO URLs is whether to use a hyphen, or dash, (these-are-hyphens) or an underscore (these_are_underscores) to separate your words. Does Google recognize both of them as word separators?
The short answer is that you should use a hyphen for your SEO URLs. Google treats a hyphen as a word separator, but does not treat an underscore that way. Google treats and underscore as a word joiner — so red_sneakers is the same as redsneakers to Google. This has been confirmed directly by Google themselves, including the fact that using dashes over underscores will have a (minor) ranking benefit.
Again, SEO URLs should use hyphens to separate words. Do not use underscores, do not try to use spaces, and do not smash all the words together intoonebigword. As of 2012, dashes are still the best way to optimize your SEO URLs.
History of the hyphen vs. underscore SEO URL debate
One of the reasons this question is so debated is because of a poorly worded comment made by Google's Matt Cutts in 2007 that to many people seemed to imply that underscores were treated as word separators.
Matt quickly corrected this perception on his blog, but the belief persisted. Later in 2009 Matt confirmed that indeed you should still be using hyphens for your SEO URLs, Google doesn't treat underscores as word separators, and again in 2010 he recommended using hyphens.
In August of 2011 Google's Matt Cutts posted a new video once again confirming unequivocally that hyphens are the way to go for your SEO URLs, and that they would remain that way for the foreseeable future. A couple of quotes from Matt Cutts in his 2011 video:
"If you are going to make a site and you're starting fresh, so you've got a blank slate to work with, I would probably go ahead and go with dashes. I would continue to go with dashes at lease for the foreseeable future."

"Nobody's slated to be working on that so at least for the time being it's better to use the dash."
Here's Matt's August video answering the hyphen vs underscore SEO URL question:

It's worth noting that if you're site is currently using underscores instead of dashes, it's probably not worth the chaos to change them (after all, 301 redirects don't pass 100% of the link juice). Matt Cutts stressed that the ranking difference between using dashes or underscores is minor — but then, that means there is a ranking difference.
Was this article useful? Support the blog by leaving a comment!
Read more Ecreative SEO Basics.
CASE STUDY: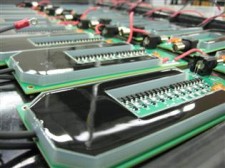 When we think of site optimization we think of adding new keywords or key phrases that we would like clients to be indexed for. With Plasma Rugged we took it to another level. Plasma Rugged needed a UX overhaul and a core page restructuring to improve their overall Google quality score.
Quality Score:
Quality score is just as it sounds, it's the quality of your landing page that you would like visitors to land on. Quality Score is becoming more and more important as their becomes an unmanageable number or websites and webpages for Google to crawl. The sheer number of websites ensures that your quality score will only continue to rise in importance. We have attached some links for you to view in which we focused on improving the quality score of a trending page on the Plasma Rugged website:
Links to View:
We will be working on Plasma Rugged quality score for the foreseeable future and will continue to post results and increases in conversions!
Other Case Studies Coming Soon!
Stay Tuned!