Ecreative Portfolio
Ecreative Internet Marketing and Ecreativeworks have completed numerous website projects that have many different capabilities and functionalities. Once a website has launched, many have continued on with other services such as monthly SEO programs, Internet marketing programs, PPC, or social marketing programs. From the design process to the promotion of your website we customize our products to fit your website goals.
The projects in our portfolio highlight our E-Commerce solution, RFQ capabilities, and international capabilities. Each project also has an internet marketing program to help increase visibility online.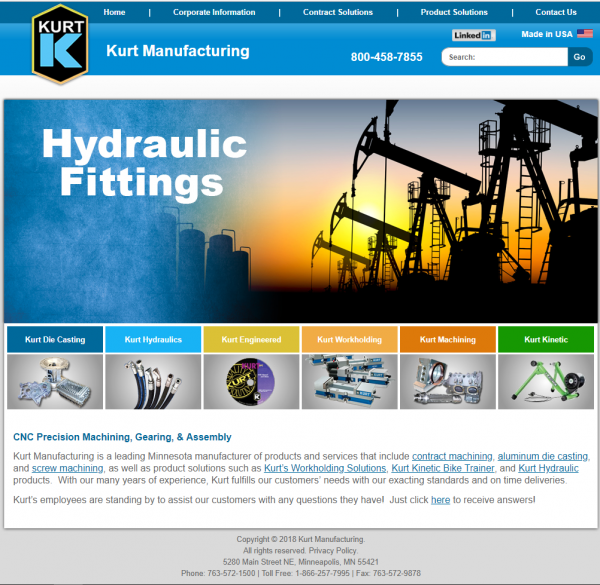 Kurt Manufacturing is the hub of many different divisions and capabilities. Ecreative has worked with each division and with Kurt to maintain identity throughout each division and product line. We have customized their websites to be generated from a database with Shopping Cart or Request for Quote functionalities. Each division has different end goals for their websites, but there is an overall Kurt brand established. We have completed work for Kurt Manufacturing, Kurt Workholding, Kurt Kinetic, Kurt Hydraulics, Kurt Chipmunk, and Kurt Engineered Systems.
Kurt Manufacturing and all that falls under their umbrella provide you with CNC machining, Kurt vises, gaging, automation, and industrial compactors. They are located in Minneapolis, Minnesota.