Professional Product Photography
Ecreative Internet Marketing offers professional product photography services to provide you with gorgeous images of your products or services to use on the web or in print. Whether you just need a handful of images to highlight your custom industrial manufacturing capabilities on your site or if you need photos of every product in your ecommerce web store, our product photography services can show your company at its best.
Both web and ecommerce usability studies prove time and again that high-quality images on your site enhance how users perceive the quality of your company and lead to increased sales. But poor quality images have the exact opposite effect, lowering the perceived value of your company. This remains true for consumer product companies and industrial manufacturers alike.
If you're in the process of a website redesign, adding products, or just looking to highlight specific products or services, Contact Us today for a competitive quote on product photography.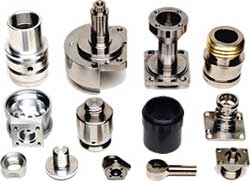 Product Photography Information
Our professional product photographers make use of the latest digital photography technology and professional lighting equipment to photograph your products in the best light possible: your products will look sharp and gorgeous. We work with Minneapolis, Minnesota-based product photographers, and parts or products shipped to us can be delivered to them for photography in their studios.
Here are some answers to common questions about product photography to help you understand the process, and what you get with product photography:
Resolution: We will deliver the final photographs to you both in web resolution, and as high resolution images that you can use for print and other promotional material.
Ownership: The photos from your product photography are yours to use for whatever use you want.
Background: Our product photographers will photograph your product on an opaque white background (other colors may be available) so there is nothing distracting viewers from your product. If you want, our graphic designers can "cut out" your image, removing the background so that the file can be layered over other backgrounds.
Angles: Our photographers will attempt to photograph your product from the most attractive angle, and one that is as consistent as possible from product to product. If you have a specific angle in mind, we can photograph following your instructions. Note however that elaborate set-ups or angles requiring additional structures or support may cost extra: by nature product photography maintains the very low cost by being an assembly-line style operation.
Products per Image: Standard product photography is one product per image. We can include multiple products in a single image, but that image will count as multiple images to reflect the additional work.
Product Shipping: The standard process for product photography is for you to send us the products that you want photographed, and then our photographers bring them to their studio to photograph them. Once the images are approved by you, you can arrange for return shipment or pickup of your products. In some instance we may be able to send a photographer to your location to photograph buildings or equipment that cannot be transported.
Product Photography vs. Marketing Photography
When considering product photography, it's important to understand what product photography is not. Product photography is not marketing photography: while your products will be photographed professionally in very high quality, the amount of time spent on each set-up is small compared to marketing photography.
Product photography is very inexpensive on a per photo basis in large part because it is an assembly line operation. The photographer sets up the studio, lights, and camera settings for your products and then shoots the products one after the other. This makes the process take less time, and as a result the cost of product photography is low.
Photographs involving special lighting, complex angles or setups, models, movement, reflections, stop motion and other involved shots are considered marketing photography and are far more expensive than product photography.
If you want very specific or involved photography, our photographers may be able to accommodate you, but it will not be priced as product photography.
If you're unsure if your idea qualifies as product photography, consider this: if the photographer can set your part or product on the backdrop and take the picture, that's probably product photography. If there is other work involved with propping up the product, stacking, changing lights or camera positions between shots, then that may well be marketing photography.