Social Marketing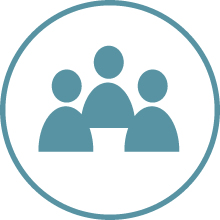 Social marketing has become an integral part of B2B SEO recently due to the explosion of community, networking, and other social media websites. Now making your voice heard on an international platform is as easy as setting up profiles on major social marketing site like LinkedIn, Facebook, and Twitter. There's a reason that social marketing platforms are regularly featured in the news -- often as news sources.
Social marketing, along with search engine optimization, is becoming an integral part of an internet marketing plan. Business websites can draw traffic and conversions from social marketing and social media marketing efforts also enhance your SEO strategies, but not all companies have the time or resources to devote to the consistent updates and interaction social marketing thrives on.
To enable businesses to reap the rewards of social marketing, Ecreative offers a variety of SEO consulting and social marketing programs that stand alone or complement your other SEO and internet marketing campaigns. We work with you to determine the most relevant forms of social marketing for your business and industry, along with the social media sites that have the most potential. Throughout the process, you'll receive updated information on how your social media profiles are performing. We will create a customized social media plan tailored to your unique business needs. Through implementation of social marketing platforms and interaction on Twitter, Facebook, and LinkedIn your name will be out in a good way! Throughout the process, you'll receive updated information on how your social media is performing, increasing your name recognition, improving your SEO, and driving traffic to your site.
Social Media Marketing in the Industrial and B2B Sector
Business and B2B social marketing has many benefits, including the ability to reach customers and prospects directly and keep them up to date on your company and services. The B2B world has embraced social media recently, with a reported 86% of B2B companies including social media as part of their marketing efforts.
The most common social media sites used by B2B businesses are LinkedIn, Twitter, and Facebook. While merely establishing a presence on these social media sites give you the ability to be found by the increasing number of B2B buyers who prefer to engage with suppliers via social media -- as well as providing additional backlinks for your SEO -- the true benefit of social marketing comes when you regularly update your social media profiles and engage with your customers through social media. As one example, research shows that small and medium B2B businesses with at least 50 Twitter followers generate twice as many online leads! In fact, small to medium B2B businesses benefit more from social marketing than larger businesses.
Furthermore, 37% of B2B buyers said they posted questions on social media sites before purchasing to look for suggestions, and 20% of B2B buyers connected directly with prospective suppliers before making a purchasing decision. As the buyers in the industrial and B2B markets get younger, the importance of social marketing grows.
Find more fascinating B2B social marketing statistics from the Ecreative Internet Marketing B2B Social Media Infographic.
Learn more about how social marketing and Ecreative can help your website grow by increasing its visibility across the internet – not just in the search engines. Contact Us to find out how we can tailor a social marketing program to your specific business.
View Social Marketing 101: Definitions of common social media terms.